Posted by Imtiajul in Caribbean
Wahoo Fishing & Tours
The owners of Wahoo Fishing & Tours are Nick and Janet. Wahoo Fishing & Tours offers a variety of options to enjoy the beautiful Caribbean from a comfortable and safe boat. You can enjoy fishing, surfing, private tours, sunset tours, snorkeling, diving, dolphin watching, sight seeing and will get the opportunity to enjoy a day on the azure sea with the emerald green jungle in the distance.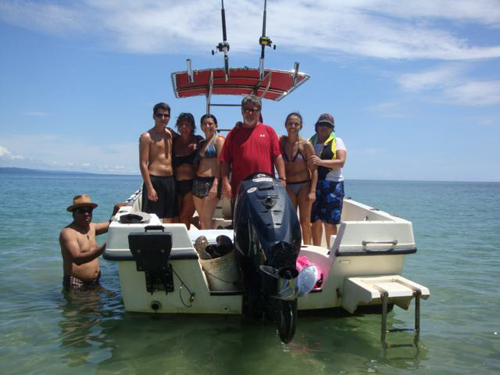 Wahoo Fishing & Tours will take you to two protected areas, Cahuita National Park and the Gandoca-Manzanillo National Wildlife Refuge. You will get the opportunity for snorkeling there. If you are a expert diver you can enjoy the off-shore reef formations with depth ranging from 4-60 meters and you might catch  snails, harvest octopus, conches, and even the spiny lobster for a delicious dinner fresh from the sea. If the weather and sea is safe enough for typical tour then you might go for one or  two dive stops in Punta Mona which is a common feeding site for the dolphins. If you go for a short jungle hike you're likely to see sloths, howler monkeys, poison dart frogs and a variety of birds. If you are lucky, you might also be able to see the rare Great Green Macaw. If you chose a half day or full day tour you can to the Southern tip of Costa Rica near the Sixaola River and take a peek at Panama from the sea which is the best place to find the Tarpon, a feisty, flashy game fish, better for playing than eating.
The Boats:
The Ahuizote is a small boat owned and skippered by Captain Pino. If you go with a partner and want to dive into the southern Caribbean culture and ways then you can take the Ahuizote. This is a traditional boat used by the local fishermen.

You can also take Wahoo as your transport. This boat is a 20′ center console double-hulled fiberglass boat. You will feel safe and comfortable while staying on this boat as this has all the equipments you need such as freshwater shower, ice chests and PDFs. This boat is equipped with 150 HP Evinrude, CB radio, GPS, depth finder and live bait when available. When the weather and water seems safe, you can go for fishing as both boats includes deep water fishing rods and spinning reels.
Captain Pino:
Captain Pino was born in Puerto Viejo. He has fishing experience of more than 30 years. He raised in Purto Viejo and has been fishing in the Southern Caribbean reefs. Not only Pino Wahoo Fishing & Tours also has some additional captain.
Food and drinks:
All o the trips organized by Wahoo Fishing & Tours include snacks and/or lunch. It serves fresh fruits and vegetables and also plenty of fluids appropriate for a day on the water.
Sunset Cruises:
If you stay till sunsets you will get the opportunity an spectacular view of the Caribe Sur from the water at sunset. You will feel the golden warmth of the setting sun on your face and cool breezes brushes your hair. You can take your favorite drinks and exclusive chocolates with you while observing the beautiful sun set. All of the tours begin and end in the small harbor in centro Puerto Viejo, near the Parquecito restaurant. For pick-up/drop-off in Cahuita or Manzanillo, Punta Uva or Playa Chiquita also can be arranged if the weather seems well.
Contact
Wahoo Fishing & Tours
Costa Rica: 8601-5294
US: 1-800-815-4038
Captain Pino: 8897-9261
Email: wahoofishingtours@gmail.com
Website: http://www.wahoofishingtours.com