Posted by Imtiajul in Tamarindo
Antares Sailing
Antares is a family owned  80 foot Sparkman and Stephens schooner (a type of sailing ship with two or more masts rigged in a variety of ways). Its captain Dr. Hermes has many years of sailing experience. He sailed from Argentina with a sextant under sailpower and ended up in the Caribbean where he met his wife Candy who assists onboard. Among their 5 children, two are also crew on the Antares. This ship was built in 1947 and previously being a treasure-hunter, it was aquired in Panama and sailed back to Tamarindo. It has won races around the world and you can join this for enjoying a magical experience. Its professional crew will cater to your every need as you enjoy the majestic Tamarindo Sunset.
Tours:
Daily Half Day Trip: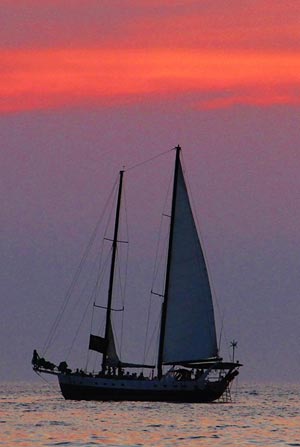 If the weather is suitable, Antares Schooner Sailing ship sets daily sailing trip from Tamarindo beach Costa Rica. At 12:45, daily tours meet at El Pescador Restaurant where you will enjoy snack. You will also enjoy a variety of drinks at the open bar throughout the trip. After reaching Playa Huevo you can enjoy snorkeling, swimming, go to the beach or just laze around on the boat. In this ship you will find a lot of space with many bean bags on the bags where you can enjoy comfortable seating with your friends or family. Then the ship will head to the Playa Tamarindo where you will enjoy stunning sunset and before back you will return. The trip duration is  12:45pm to 6pm and it cost USD $85 per person. This trip includes 6 delicious gourmet plates of food, open bar, snorkeling and sunset.
Witch's Rock Overnight Tour:
Surfers will enjoy this overnight trips offered by Antares Sailing Adventures. This trip include delicious food and drinks.
Full Moon Tour:
Antares Sailing Adventure Ship arranges full moon party once a month. At 5 P.M. it heads out to catch an amazing sunset and then return to the anchor. There is an Open bar for enjoying different drinks and snacks during the trip. After reaching to the anchor, a delicious supper is served and guests will also enjoy live music until 10 P.M.
Private Charters:
You can also book Antares for enjoying your own private sailing tour. They will customize  your Costa Rica adventure for a breakfast, lunch, 1/2 day or sunset cruises. During the trip you can enjoy sport fishing, swimming, snorkeling or dolphin watching. Its professional crew will cater to your every need as you enjoy the majestic Tamarindo Sunset.
Contact
Antares Sailing
Call: (506) 8587-3095
(506) 6090-8005
email: Antares@TamarindoSailing.net
Website: http://tamarindosailing.net/