Posted by Imtiajul in Tour Companies
Adventure Tours Costa Rica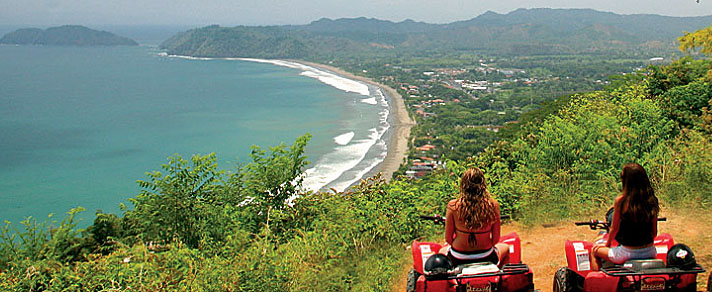 Costa Rica is without a doubt a bucket list natural paradise that truly holds something for every kind of traveler.  Whether you're packing Armani bags, a Northface backpack, or a Quicksilver board bag, chances are you will find what you are looking for.
American Owned & Operated, Adventure Tours Costa Rica is proud to be the leading provider of adventure tours and vacations specializing in the Jaco Beach and Los Suenos area of Costa Rica. With over ten years of experience as agent and operator in Jaco Costa Rica, Adventure Tours Costa Rica has defined the culture of adventure excursions.  Discovering the most beautiful and hidden parts of Costa Rica only found through rough terrain and a whole lot of adrenaline is what ATCR is all about.
Located in one of the most mountainous and diversified areas of Costa Rica in Jaco Beach and Los Suenos Resort, Adventure Tours Costa Rica has developed the expertise, knowledge & team to provide thousands of customers with the ultimate adventure experience. ATCR professionally operates and works with tours including: ATV, Canopy, White Water Rafting, Sport Fishing, Horseback Riding and Surfing Tours – all within close proximity to Los Suenos and Jaco.
For the vacationer who loves the ocean but prefers not to fish, many select luxury excursions to the immaculate Tortuga Island as one of their Costa Rica tours. On our Tortuga Island Catamaran Tours, vacationers snorkel, take Banana Boat Rides and relax on white-sand beaches as a part of these Costa Rica Tours.
White sands, crystal waters, tropical fish, and unspoiled natural beauty are just a few of the things you enjoy on your tour of the famous Tortuga Island leaving from Los Suenos and Jaco Beach.
The first-class cruise through the majestic Gulf of Nicoya is less than an hour on all of the top-of-the-line boats that we offer.  Dolphins, sailfish, and even the humpback whale are just a few examples of the marine life you have a chance to see along the way.
On Tortuga Island, there are a variety of activities to enjoy. Snorkeling, kayaking, fishing, or just simply relaxing in the warm sun with a cool drink are among the favorites.
Delicious food, fruits and drinks are all provided for you, as well as a friendly bilingual crew to insure that your experience on Tortuga Island and in the Gulf of Nicoya is a memorable one.
Contact
Website: Adventure Tours Costa Rica