Posted by Imtiajul in Puntarenas
Tortuga Island Catamaran Cruise
Trip with Pura Vida Princess:
The trip will start at 8am. During the trip you will have the boat Pura Vida Princess which will pick-up you from the place you will stay. You will get the opportunity to watch the beautiful morning views over the best blue water in the world. The vans are very nice and air conditioned. The boat is professional, licensed and have an insured driver. Not only the Tortuga Island you will also enjoy the sights of other islands while passing along the way with the Pura Vida Princess. This boat is a 100′ catamaran which has open and closed deck areas. Whatever you want, you will have on the boat. The stuffs are very hospitable and friendly and always try to fulfill all of your need. You will also enjoy the on-board live DJ. There are a full cash bar stocked with plenty of top shelf liquor and you will get 4 free cocktails. The whole tip will be an exceptional and memorable experience for all the guests.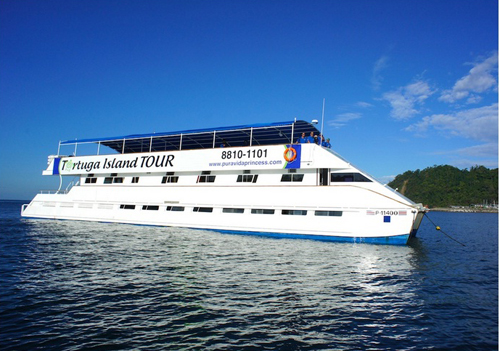 Tortuga Island:
You will visit Tortuga island where you will see plenty of wildlife. You can enjoy the beauty of nature from the beach or from in the water. The area is set back on the white sand beach. If you walk the beach you will find plenty to look and enjoy. During the trip you will get the opportunity to enjoy snorkeling, and can explore the underwater life in the warm 80+ degree ocean. Under the water you will see lots of fishes and beautiful sea plants, coral etc. 
Foods ad Drinks:
Your journey will start with coffee served with a local breakfast burrito, fresh fruits, juice. Not only in the breakfast time, you will have delicious foods and drinks during the whole trip. There is the arrangement of complimentary barbeque lunch with more natural fruit juice, water, soda, rum punch etc. You can sit on the beach under one of the shady umbrellas and have your foods there.
Activities during the trip:
You will feel refreshed as the gentle breezes and sound of lapping ocean waves will wash away all the tensions from you. You can get in on a game of volley ball or can  ride the banana boat. You can also go for a paddle in a kayak,soak and swim in the beautiful clear waters, do a little trinket shopping in the well-stocked souvenir stand. If you want you can just spend a lazy time on the beach. You will have 5 hours to spend on the island, to explore the beauty of the island and to enjoy some time with you family and friends.
Contact:
Tortuga Island Catamaran Cruise
Website: http://www.tortugaislandcruise.com
From the US: 1-877-707-5226
Within Costa Rica: 506-8810-1101
Costa Rica Alt Ph.: 506-8810-1097
Email: puravidaprincesstours@gmail.com