Posted by Imtiajul in Puntarenas
The King Catamaran-Party Boat Costa Rica
In Costa Rica 'Costa Rica DMC groups' is a Specialist and Experienced Tour Operator! This tour operator determines to create special events and the most memorable theme parties. This is a very professional organization which commits to the highest levels of personal service. Many types of events such as weddings, coordinate meeting, gay wedding, special events, spouse and guest programs, team building, customized tours, and social occasions etc. The organization is dedicated to takes a hand-on approach to each event. It will listen to all of your needs and will organize the program which will satisfy you as you will see your vision turns into reality.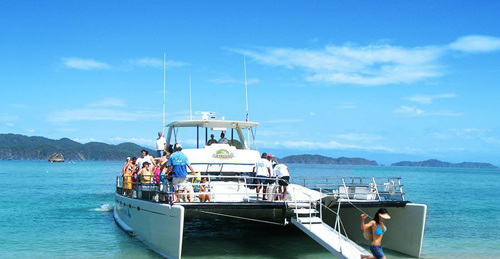 This organization is approved by ministry of Tourism Government of Costa DMC Groups . It is trying to develop gradually and to become the perfect Costa Rica Trip Advisor. It will guide you in your every step of Costa Rica tour. You will know about all the interesting places in Costa Rica. 
You will go for sailing with the beautiful Catamaran Party boat which is ready to take you through the Herradura's bay. While the boat will navigate through the calm waters of the Herradura Bay, you will observe the beautiful view of Jaco Beach's Hotel Zone. The wonderful sunset view, the warm breeze, the wild life of the sea will make you calm and relaxed.
On Catamaran you will have delicious food and drinks served by the stuffs of the boat. There  a domestic open bar where you will be able to enjoy different types of drinks such as Rum, Beer, Cocktails, Tequila, Juices etc. On the food item the chef will prepare Guacamole and BBQ, Salad with dressing etc.
During the trip you will enjoy the live music and enjoy the dj party organized by the Staff. The whole trip will be memorable and you will obviously like to go for another trip.
Contact:
Party Boat Costa Rica
COSTA RICA: (506)2643 2441 / (506)8819 1920
Email: info@thekingcatamaran.com
Website: http://www.thekingcatamaran.com/