Posted by Imtiajul in Central America
AdventureSmith Explorations
If you want to visit the places inaccessible to larger ships you can choose Sea Voyager as it is small in size and can easily take 62 passenger together.Sea Voyager was aboard in Central America by an Adventure Smith Explorations crew member. You can explore up close venturing ashore in search of rainforest wildlife deserted beaches.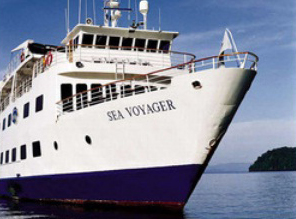 Sea Activities
If you want to go for hiking, swimming, snorkeling or diving you should chose Sea Voyager as this can accommodate. If you wish you can simply take rest on the boat or on a remote beach. Zodiacs and kayaks offer seclusive ways to explore quiet bays and rivers. The crew members are very hospitable and always keep themselves busy in enhancing your imagination and inspire your quest for adventure. They will make your journey more comfortable, relaxing, refreshing, memorable and enjoyable.
Expeditions Team of Sea Voyager
Throughout the voyage, the Sea Voyager's friendly expedition team will travel with you and there will be an experienced Expedition Leader, historian or naturalist, birder or ornithologist, marine underwater specialist. While exploring destinations by Zodiac or Kayak or on land during formal and informal guided walks you will come to know better about the areas you will visit from the educational team's briefing, lecture, recaps.
Captain Jorge Murillo has over 25 years of experience on small ships The international crew, staff, officers all of them follow Jorge's leadership and create unpretentious, welcoming environment and gives value to your own pace.
Sea Voyager:
You will enjoy your time on the water in various ways. On the boat you will find a spacious lounge, with full-service bar, is surrounded by large windows through which you can watch the passing scenery.  There is a library is stocked with books for you to enjoy and you will be able to learn more about the region. There are WiFi internet access is available on board. A devoted fitness room with exercise equipment is also there that allows you to accomplish a strenuous workout, while enjoying the view through picture windows. If you want to spend time outside you can go to the open or covered decks with chairs and tables. There are also separate spaces where you can join a group or enjoy yourself.
Though it is a small ship it is fully equipped with comfortable, outside staterooms featuring panoramic windows. It also has individually controlled air-conditioning; private bath with shower, lower berths, sink, toilet, and mirrors. You will also have closet space; and telephone. In each cabin hair dryers are also available and electrical plugs are 110v with the typical North American two-pronged plugs.
Meals and Service
You will be able to enjoy healthy and hearty meals prepared by talented chefs. You can enjoy the food on deck if the weather permits or you can go to the dining room also. You can enjoy fresh vegetables and local fruits. You will also get the fresh seafood dishes. You can enjoy meal with your partner or with a group as there are the tables that can seat from 2 to 12 people.
Contact
AdventureSmith Explorations
addresses
3090 North Lake Blvd. Suite #1   Tahoe City, CA 96145
PO Box 1696   Tahoe City, CA 96145
toll free: 1-877-620-2875
local: 530-583-1775
Website: http://adventuresmithexplorations.com