Posted by Imtiajul in Uncategorized
Skysail Charters
Sky Sail Charters strive to offer the ultimate in sailboat and powerboat chartering experiences. The yachts of this company depart from the Sea Isle Marina. There are plenty of boating opportunities offered by the crystalline waters in South Florida. You can easily visit Florida keys, Biscayne Bay and Bahamas. Yachts has the room for for 40+ people.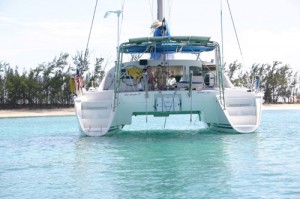 During the time of reservation Sky Sail Charter will serve you with a list of U.S.C.G. licensed captains for your consideration. This company is committed to accommodate your desire to experience sailing in the tropics. All the members of this company has extensive sailing experience and gave deep passion for traveling on the water.
Yacht:
Fantasia IV-41′ Lagoon Catamaran:
Fantasia IV-41 Lagoon is available for a day or evening cruiser and up to 12 guests can go together on this boat along with an expert captain. If you want to go with 6 guests to Florida Keys and Bahamas for multi-day getaways then you can choose this yacht. In this yacht you will find four cabins and four bathrooms a wonderful interior cabin complete with a galley, circular sofa and full air conditioning throughout. And outside features are also for comfort. You can take an afternoon nap there. There is an extra-wide decks which is kid friendly and a shady aft cockpit picnic area. You can enjoy water sport with your family and friends. If you spend some days as a sailor it will make you relaxed, refreshed and energetic. You can make your trip memorable by taking some snapshots in your camera. The captain of this boat has impressive backgrounds with many decades of boating experience.
Charters:
The Florida Keys:
It is located in South of Miami. T his place is special because it is made up of more than 40 islands. All the islands linked to the mainland by one road called Overseas Highway. The most popular destination is Key Largo for private charters embarking in Miami. You will get the opportunity to enjoy world-famous sunsets, tropical beaches and spectacular snorkeling and scuba diving sites. To visit the Key Largo, Sky Sail Charters recommend 3 days and 3 nights. First day you will get the opportunity to visit the town and second day you can enjoy snorkeling and diving in many famous snorkeling and diving sites. Third day you will sail back to Miami at a leisurely pace and you can enjoy swimming and snorkeling on the way. At the end of the day you will have dinner on board and enjoy the beautiful Miami skyline as background.
The Bahamas:
If you visit Bahamas you will get the opportunity to visit three different island chains each offering a variation of crystal clear water and world-class fishing and diving. Abacos islands, lie to the north, rich with visual and cultural flavor of British colonial life. Abacs might be the most developed of the Out Islands and it boast the famous candy-striped lighthouse and incredible sailing. The Berry Islands are in the middle Bahmas which is full of activity such as nightclubs, casinos and restaurants. If you visit the lower islands you will find these islands are different where you can spend time with distinct personalities, total relaxation and natural wonders.
If you want to visit Abacos, you should chose a minimum of 7 to 10 days and depart from Miami beach at 9 am. You will sailing across the Gulf Stream to stop in Bimini Islands (the closest of the Bahamas Islands) which is about 45 miles from Miami. You can take the yacht offered by Skysail Charters to go directly to the Abacos.
Biscayne Bay Sunset Cruise
Biscayne Bay Sunset Cruise will is the perfect choice for enjoying the amazing sunset view on the water. From the Sea Isle Marina, the charter will depart and cruise into the Biscayne Bay from the North. You will go alongside the American Airlines Arena and skyscrapers of Downtown Miami and Brckell Avenue until the yacht will reach the open bay waters where you can the full view of the gorgeous Miami skyline , as well as Key Biscayne and Coconut Grove.After watching the amazing and breathtaking sunset from the open bay waters you will return to the marina.
Contact
Skysail Charters
Website: http://www.skysailcharters.com
Email: info@skysailcharters.com
Call: +1-305-428-2777