Posted by Imtiajul in Uncategorized
SeaDream Yacht Club
You will get an opportunity to enjoy a seven-night Costa Rica cruise offered by SeaDream Yacht Club. You will enjoy the journey onboard SeaDream I. The boat will sail round trip from Caldera, Costa Rica on December 7, 2013. If you want to take an inside cabin, you will have to pay $2,999.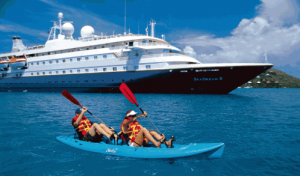 You will enjoy one week yachting around the Costa Rican coast. It will stop at Playa Flamingo which is the home to one of the country's most popular beaches. The boat will also stop at the Tortuga Island where you will explore the wildlife.
SeaDream Yacht Club has managed to carve out a unique niche for itself with SeaDream I and also with SeaDream II. In 2001, SeaDream was created. SeaDream I, a Caribbean cruise can hold 112-passenger. The atmosphere onboard is casual and there are no force-festive "group" activities. SeaDream is a lovely and a Sea Goddess ship. There are sports platform that opens off the back which is full of plenty of sports toys. There you will fins kayaks and a Sunfish sail boat to water skis and even a Jet ski! There are double-sized uber-comfortable loungers which are set on a platform above the railing and are great spots for everything from sunbathing to sunset-watching. There are five decks onboard and 95 crew who are very hospitable and always busy to entertain the passengers and to ensure to give all the things they ask for. You will find three categories of staterooms- standard suites, at 195 square ft., are fairly small, particularly for a luxury shi. There are a flat screen television, a DVD player (the purser's desk has an excellent collection from which to borrow) and a CD player. On the room you will also have marvelous quality barware and mini-fridges which are stocked, on a complimentary basis, with juice, soda and beer. With the softest linens and with duvets beds are outfitted with.You will be amazed while entering the bathrooms as those worked wonders. Though those bathrooms are not large enough to take your suite mate with you but you will find the shower fabulous.
There is a Wellness Center with Asian Spa on the boat. You can take relaxation massage and make your self totally relaxed and refreshed. If you want to watch movies or want to enjoy dancing with your partner you can go to the lounge. There is a Piano Bar also. And there is a small casino with two tables and a handful of slot machines for your entertainment.
On SeaDream all meals, regardless of venue, were all open seating, all the time. You will have your breakfast typically served at the Topside Restaurant which is located on one of the ship's top decks. For breakfast you can take a small array of cereals, fruits, breads and yogurt at a mini-buffet, and then order hot dishes from a menu. Lunch is typically consisted of gourmet fare prepared with a light touch. 24-hour room service menu was fairly limited but offerings were excellent and room service can be delivered in anywhere on the ship.
Contact
SeaDream Yacht Club
Website: http://www.seadream.com/
Email: info@seadream.com
Call: (800) 707 – 4911 (305) 631 – 6100