Posted by Imtiajul in Flamingo, Guanacaste
Sailing Hibiscus Catamaran Sail Tours
Hibiscus is one of the most luxurious sailing catamarans in the Playa Flamingo area. Flamingo Beach is one of the most beautiful beaches on the Pacific side of Costa Rica and the area is known for sailing, swimming, snorkeling, sport fishing, kayaking, diving and sunset cruises. Gold Coast Charters offers high quality and unique charters, tours, and activities near Tamarindo and Playa Flamingo. Whether it's a lavish wedding, private party, adventurous surf and snorkel trip, or a peaceful sunset, the experience on Hibiscus in the hands of Gold Coast Charters is unmatched.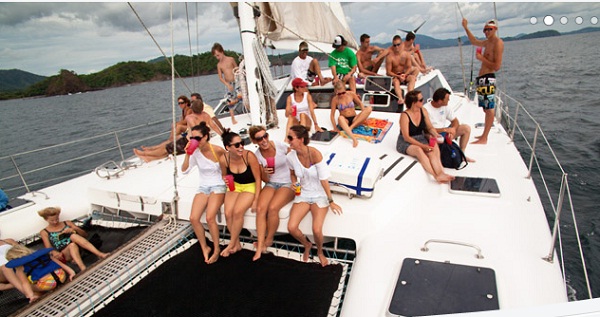 Northwest Costa Rica has all the natural attractions you have been looking for. From the slopes of active volcanoes to a landscape of bubbling fumaroles, organic farms to pristine cloud forest, white sand beach to mountains. With most popular beaches with stunning, fine white sand, blue waters, lagoons, vegetation and abundance of activities, this is a perfect place for vacation and sailing.
The crew of the Hibiscus are always at your service. The captain and his crew are sailors first. The boat is tip-top, it is very clear that they service and maintain the yacht to a higher standard. The crew are very welcoming and make sure that everyone is having a good time!
Sunset &  Snorkeling Cruise
Sunset and snorkeling cruise is the most popular service the company offers.  You need to be present at Potrero beach at 1:15 p, as they shuttle guests to Habiscus there on their safe and sturdy panga. You need to be there on time as Hibiscus leaves the mooring promptly at 2 pm. As soon as the guests feel comfortable the crew start describing the features and amenities of Hibiscus. Then they explain safety considerations. When these formalities are closed, the sails are raised and Hibiscus starts sailing to a secluded beach, Playa Amor. You will definitely enjoy great food including fresh fajita's, guacamole, and salsa's. At Playa Amor you will have an excellent opportunity to enjoy you time snorkeling and swimming. The wildlife, both in and out of the water, is spellbinding. You will be amazed to see tropical fish, sea turtles, dolphins, sting rays, urchins, star fish, and sometimes even whales. The glorious sunset makes the ending a great experience.
style="text-align: justify;">
Weddings & Receptions
Want a special wedding that's romantic, private, intimate and unique? Just imagine the sensation of sailing away with your soul mate and maybe a few friends to a tropical harbor for an intimate ceremony to be legally united by a Caribbean minister. Hibiscus is available for private charters for your special occasions including wedding, reception parties, or birthday parties.
Surf Excursions
For many years, Northwest Costa Rica has been known for its abundance of perfect waves and surf. Gold Coast's fully-guided surfing trips satisfy both the experienced and beginning surfers seeking uncrowded waves on Northwest Costa Rica, away from the more congested, heavily-trafficked zones. Hibiscus will provide all beverages, food, and other provisions to ensure a comfortable and satisfying adventure; just bring your suit and your board!
Contact
Gold Coast Charters
Website: http://www.sailhibiscus.com/
Tamarindo and Flamingo, Guanacaste, Costa Rica
gcccostarica@gmail.com
(506) 4000-1987 or (612) 326-4455