Posted by Imtiajul in Uncategorized
Planet Dolphin
The Boats
If you are deciding to go for a island adventure and a nice sea trip than you can choose. Planet Dolphin offers three distinctly different catamarans for your island adventure. Spanish Dancer (which is a 38 foot MacGregor sport catamaran, a fast and maneuverable craft) with the capacity for 16 passengers. You willget the opportunity of enjoying sun rays on your body and also can feel the lovely touch of sea air. Tom Cat I (which is partially roofed) has the capacity for fifty passenger, Tom Cat II (which is a roomy and comfortable 70 footer) with the capacity of 120 passengers. Tom Cats are very stable, comfortable and ride smoothly. You will find plenty of banquette seating arranged in a large shaded area where you can spend some time only for taking rest and relaxation.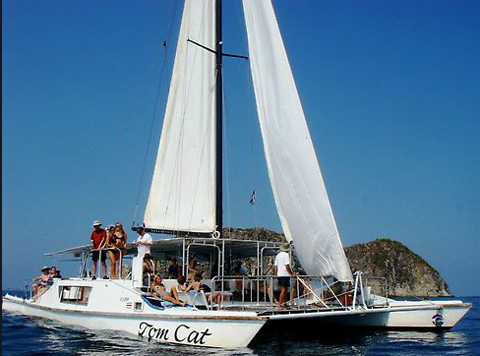 Wonderful Sites
Tom I, Tom II, Spanish Dancer whichever boat you chose you will meet friendly crews and experienced captain who will take you to the nice places where you will see dolphins, migrating humpback whales, sea turtles. Though the staffs of the boat are professional but they are attentive, communicative, and very helpful. They all have a unique charisma to treat guests and make them feel welcome.When you will reach the coastline of the park, the mysterious islands you will see the unique rock formations which you will want to touch and you will also see boobies, marine birds, pelicans, magnificent frigates.
Whale and Dolphin
 When the boat will sail silently through the blue Pacific waters you will feel the wind and hear the sounds of the waves which are interrupted by the splash of dolphins and whales. You will hear the. You will feel a heavenly feelings in your very inner self. If you go for snorkeling you will see many species of colorful tropical fish.
Food and Drinks:
You will enjoy a feast of grilled fish brochettes, vegetables, pasta salad, fresh local fruits, natural drinks, all accompanied by the hospitality of the boat crews. The food served is exceptional tasty and plenty of it. You will love to take dinner with you partner or with family.
Beautiful Sunset view:
If you come back toward shore during sunset you will see the spectacular sky which and will feel the silence of the nature. The gorgeous ocean sunset view will make you ready for taking another trip with Planet Dolphin. If you have camera then you can take photos of the beautiful sunset view which will remind you about the nice trip later.
Contact
Planet Dolphin
Website: http://www.planetdolphin.com
Email: info@planetdolphin.com
Phone: (country code 506) 2777-1647