Posted by Imtiajul in Flamingo
Panache Sailing
The Panache is amazing! It is a great boat, very very very clean with amazing crew! The Panache IV is one of the most luxurious Catamarans in the Flamingo Area. The catamaran is 46 ft long. It has four well decorated rooms, four clean and large bathrooms and a fully equipped kitchen. One of the things you don't need to think about when you are on this catamaran is safety. If something does go wrong, you can trust this group and this Captain to make wise, experienced decisions.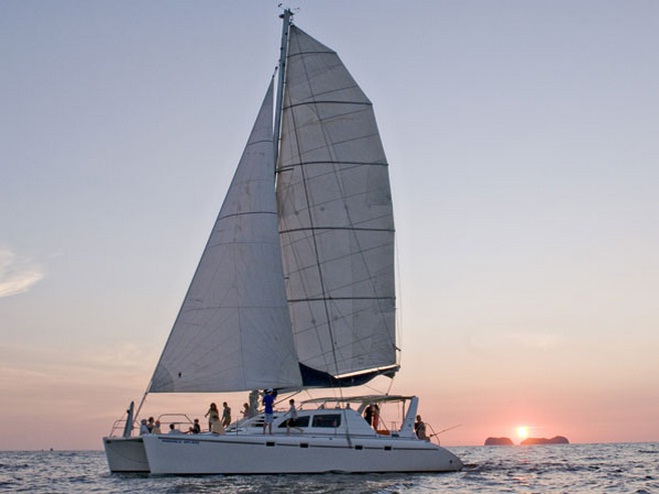 The Tours
Panache Sailing offers two daily tours. Morning Tours and Afternoon Tours. Morning tour starts at 8:30 in the morning and morning tours are frequently recommended during green season because mornings are commonly dry. The Afternoon tour starts at 2:00 in the afternoon. As most of the crew is bilingual, language is not a problem for the guests. Crew headed by the captain Jeffry is always ready to make this sailing experience one of the bests of your life. Captain Jeffry is experienced enough. He is very friendly and always ready to help you. The tour includes 4 hours of sailing (approximately). You will enjoy the guided snorkeling tour and the tour company provides with all necessary equipment. The snorkel location allows you to swim to an inaccessible beach which is a beautiful large double clam. Sea kayaking is another great attraction of this tour. This is an amazing opportunity to watch wildlife. They offer deluxe fresh and delicious lunch but the most interesting thing is that the lunch is outstanding and made all in house! There is an open bar with drinks. The bar offers a wide variety of drinks including but not limited to margaritas, daiquiry, tequila sunrise, sour liquor, chardenney white wine, local beer, rum punch, soda and natural drinks.
Attractions
It is a beautiful tour where you can enjoy amazing views from many beaches, the fresh breeze from the Pacific Ocean, a relaxing tour that you will never forget. Sailing on the pacific through the islands very relaxing, and snorkeling in the lagoon is fabulous. You utterly amazed by the beauty of the landscape and scenery. This is the opportunity for you and family, friends or guests have a good time and find amazing new places in the Panache Catamaran. experienced and friendly crew will give you a pleasant attention.The staff are always very attentive sailboat. Wonderful tour, excellent customer service, heavenly nature, sunset looks spectacular. Catamaran gives you the opportunity to discover several white sand beaches and crystal water where you will be able to appreciate the most beautiful sea species; dolphins, sea turtles or whales are some of the varieties that Guanacaste has to show.
Contact
Panache Sailing
Tamarindo – Flamingo beach,  Santa Cruz, Guanacaste, Costa Rica
Tel: 2653-7178 | Toll Free: 1-888-343-3189 | Fax: (506) 2653-6821
Website: www.sailingintamarindo.com
reservations@sailingintamarindo.com