Posted by Imtiajul in Uncategorized
Osa Tropical
Osa Tropical is a well-established family run travel service company which offers customer service both in English and Spanish. Since 1995 this company was dedicated to provide high quality travel experiences. This company offers many types of services such as vacation rentals, tour packages, car rental service, travel advice, tour packages, flight reservations etc. In the South Pacific of Costa Rica, which is the most beautiful and biologically diverse corners of Costa Rica, Osa Tropical also offers real estate and property management services.  This company will make your dream vacation come true.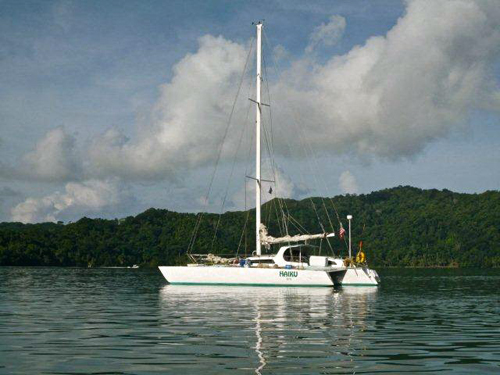 Osa Tropical usually offers day sailing and sunset sailing tours which includes variety of activities such as dolphin and whale watching, pelagic bird watching, snorkeling, hiking on the rain forest, surf charters. From 44′ Katola Trimaran you can enjoy the incredible bio-diversity of Costa Rica. You can take the boat Haiku and can chose from the different types of tours such as full day or half day tour, over night tour or sunset tours. Whatever tour you chose you will get the opportunity to sail around the Osa Peninsula, the Golfo Dulce and Cabo Matapalo. If you are lucky enough you might get the opportunity to swim with dolphins.
Full Day Tour:
If you want to go for a full day sailing tour than it will cost $850 for 10 people and if you take more people with you than you will have to pay $65/ additional persons. In this tour you will get lunch, fresh fruit juices, snacks and soft drinks. On Haiku up to 20 people can be accommodated.
Half Day Tour:
Like the Full day tour, Half day tour also include snacks and soft drinks. Half Day Tour cost $55 per person and minimum of 6 people can go together. On the boat there are room available for up to 10 people. If you take additional people with you then you will have to pay $55 for each additional person. You can chose Morning or afternoon trip for Half day sailing tour.
Two Day, 1 Night Sailing Tour:
If you chose this tour then you will get sport equipment and meals, fruit or soft drinks. This tour costs $1960 for four people and if you take more than four people then you will have to pay $ 400 for each additional person. Maximum 6 person can go together on this tour.
Day sail on the Golfo Dulce:
This tour includes lunch, non-alcoholic beverages such as water, juice and beer. If eight people go together then it will cost $790.00 and if the guests' number is up to 15 then the tour will cost $1140.00.
Sunset Sail Tour:
Sunset Sail Tour is more amazing and it lasts for 2.5 hours. Wine, soft drinks, beer and snacks are provided for the guest. This sailing tour costs $ 260 for up to 4 people and if the number of guest increases then the cost will also be increased and $45 will be added for each additional person.
For the tours the gust will get some equipments such as EPIRB, Medical Kit,, Life Raft,VHF / GPS / Radar, Life Jackets,Snorkel gear, Fishing gear, BBQ, 100 v power for personal electronics, Kite surfing gear,12" inflatable dive kayak, 9" inflatable with 8hp motor,  2 man kayak, 15" inflatable with 25hp motor. First aid trained crew will also be there with you.
Contact
Osa Tropical
Website: http://www.osa-tropical.com/
email: info@osa-tropical.com
Alternative Email: osatropical@ice.co.cr
Tel:  (506) 2735 5062
(506) 2735 5722
(506) 2735 5785
(506) 2735 5043