Marina Pez Vela
Marina Pez Vela, one of the world's top boating destinations, offers a great opportunity to experience the lush beauty and warm hospitality of true Costa Rica. Unlike typical marinas, Pez Vela provides not only wet slips for rent but also a variety of attractive services and amenities.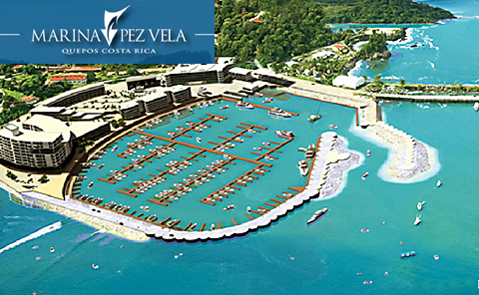 Marina Pez Vela is proud to be an internationally recognized sport fishing destination. Billfish are the country's biggest attractions, with abundant sailfish and marlin off the Pacific coast, but the fishermen also hook plenty of other feisty fighters, such as wahoo and roosterfish.
Quepos
The Marina is located in Quepos, Costa Rica, a small town in Puntarenas province. Quepos is located on Costa Rica's central Pacific coast and is undoubtedly one of the best places in the world for big game sport fishing. Quepos is the most visited Sportfishing destination in Costa Rica. There's no better blue water fishing anywhere.
Manuel Antonio
Close by is beautiful Manuel Antonio, a small National Park in the Central Pacific Conservation Area located on the Pacific coast of Costa Rica, the area offers a myriad of shops, bars, restaurants and hotels to suit every taste and budget. It is so popular because of its expensive white sand beaches backed by an evergreen forest that grows right up to the high tide line. Manuel Antonio contains a charming combination of rain forest, beaches and coral reefs. This beaches are the most beautiful in the country, lined with lush forest, and the snorkeling is excellent too. There are a lot of facilities in Marina Pez Vela including long or short term dockage, fuelling, provisions, and charters for both sport fishing and cruising enthusiasts.
Marina Pez Vela
Marina Pez Vela officially opened in April 2010. Situated on 55 acres of land and water along the Quepos coast, facilities include 300 individual floating wet slips for vessels up to 200′. Separate enclosed dry stack storage will accommodate boats up to 35′. Full service repair and boat yard facilities, the only true full-service boatyard for nearly 1,000 miles of coastline, include hauling capacity for vessels up to 130′, two travel lifts of 75-ton and 200-ton capacity.
Marine Store
There is a well-stocked marine store at Marina Pez Vela. This is a great place with great help and competitive pricing. Anything you could ever need or think of needing for marine leisure including  ice, bait and tackle, and vessel cleaning and maintenance supplies is here. Plus, everyone is super friendly and helpful.
Amenities & Services
Laundry, Restroom Facilities, Restaurant, Pool, Bait, Fishing Charter, Concierge Service, Customs and Immigration, Nearby Lodging, Public Phone, Dock Carts, Postal Services, Ramp, Wireless, Internet, Showers, Security.
Contact
Marina Pez Vela
1-866-739-8352
Costa Rica Tel:(506) 2774-9000
info@marinapezvela.com
www.marinapezvela.com