Posted by Imtiajul in Puntarenas
Manuel Antonio Catamaran Adventures
Manuel Antonio Catamaran Adventures gives you an excellent opportunity to enjoy the mysterious beauty of Manuel Antonio National Park on a big, fun and safe catamaran in Central America. 4 hours on board the Ocean King Catamaran, cruising along the central pacific coast of Quepos and Manuel Antonio, see the Manuel Antonio coast line! 2 – 15" water slides that allow for the guests to enjoy a safe and adventurous way to take a dip into the refreshing Pacific Ocean.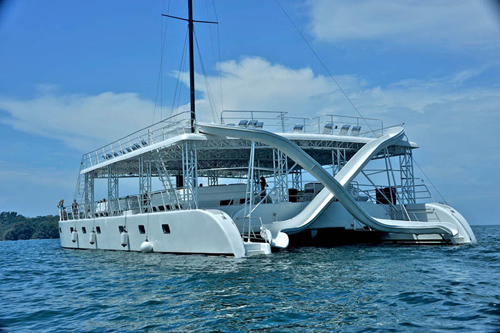 The OCEAN KING Catamaran is a new and large catamaran, with 100 feet long hang out areas where their friendly and professional crew will ensure that you have a good time, music, and food. There are 2 Luxury jacuzzis, 2 giant trampolines and a 2ND floor tanning deck with comfortable pool furniture. Main area can accommodate more than 100 people and the second floor can more than 150 people. There are four bathrooms and four showers. four rooms and a living room.
This four hour tour will take place in one of the most beautiful areas in Costa Rica, It will be all inclusive. Boarding the ship and departing for a cruise of the fabulous Costa Rican coast line of Manuel Antonio. The tour includes drinks such as tropical fruit juices, cocktails, beer, sodas, a Zumba memory band, snorkeling, swimming, water slides, dolphin watching, whale watching and lots of Fun!
During 4 exciting hours of adventure, nature and fun you will enjoy an incredible service on board sailing on the warm waters of the ocean along the beautiful coastline Paífico covered with dense vegetation between Quepos and Manuel Antonio National Park and its interesting rock formations and islands where several species of nesting seabirds. This massive Catamaran also has two water slides for your entertainment! You will also stop at a refreshing snorkeling spot right outside Manuel Antonio, where everybody will be able to jump into the water for beautiful, multicolored snorkeling.
This is a state of the art cruise ship with all the amenities on board. All the food/drinks are included on this boat. The Captain is experienced and friendly. The crew is attentive, caring and knowledgeable. The food is excellent and the on board music is great. Throughout the tour the great staff will be helping you in everything that you need and will invite you to join to all of their wonderful activities.
Contact
Manuel Antonio Catamaran Adventures
Office:
+ (506) 2777-7428
+ (506) 2777-7429
+ (506) 2777-4854
+ (506) 8359-5782
Email: info@catamaranadventurescr.com