Posted by Imtiajul in Uncategorized
La Fragata Sailing Club Costa Rica
For youth sailing programs, the International Optimist Dinghy Class has emerged as the fastest growing dinghy class all around the world. ISAF (International Sailing Federation) recognized this dinghy for under 16s. Among the kids between 7 to 15 years who are interested in ocean activities La Fragata's Optimist Program is just for them. Whether they are new to ocean activities or already expert, all of them can join the club.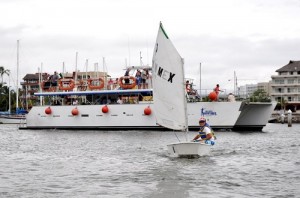 First of all the club offers private lessons, weekend classes and holiday camps and these programs let the kids make new friends and also increase their social skill. Sailing is a super fun sport and there is no doubt that the kids will like it. It is an excellent way to learn to sail craft and also to participate in competition at numerous local and international regattas.
The Optimist is a safe and simple boat on which a young child can easily learn travel, sailing and can make friends all over the world. The coach of Optimist is Zephyr Elli Robb, who started her career on yachts after completing graduation from high school in Jaco Beach, Costa Rica. She started day-working on fishing boats and pleasure yachts in Los Suenos Marina. She is also worked for Del Mar Surf Camp as atour guide or surf instructor.  When she finished 2 years at Los Suenos and Del Mar, one of her friends invited her to sail from Puerto Vallart, Mexico down to Costa Rica on their 52 foot Cutter. She learned about sail repair, dinghy sailing, rigging in North Sails Loft. She started to yacht crewing on the Swagman and traveled over 30,000 Nautical Miles and sail to the places including Indonesia, Australia, Seychelles, Mexico, USA, Mediterranean and Maldives.
If you are a beginner or an avid sailor but want to improve your skill then you should join La Fragata's 5 Day Sailing Camp. The beginner camp teach the children who do not have any experience in sailing. This camp introduce the kids with the parts of the boat, basic sailing rules and to rig their own boats and how to sail alone. You will also learn how to right and bail their boats in the pool to proper sail trim in the bay. Advanced Sailor and Intermediate camps work on racing techniques for the more experienced kids. In this camp kids will get the opportunity to learn the basic meteorology, racing rules and advanced sail trim.

You can join the sailing class at La Fragata Sailing Club. The class usually begins with theory instruction and on land activities. Later you will have lunch or a snack. If you join the class you will learn how to rig boat and prepare to be towed out to the bay. Once you will in the bay, you will enjoy improving your skills through instruction, games, drills and races.

Contact

La Fragata Sailing Club Costa Rica
Website: http://www.lafragatasailingclub.com/
Tel: +(506) 8996-9317
Email: info@lafragatasailingclub.com