Posted by Imtiajul in Uncategorized
Jaco Vip Tour
Jaco Vip Tour will design the perfect vacation in Costa Rica. It will insure that you can enjoy all of life's pleasures that are available in Costa Rica. You will forget all the sufferings, stress and worry there. Whether you want to have a Family holiday getaway, Fishing weekend, Private party or Bachelor Stag party you can have it organized by Jaco Vip Tour. There is no doubt that you will have a ultimate Costa Rica Vacation Experience.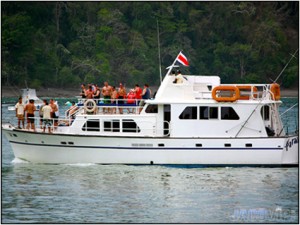 There are some standard concierge service which is included free of charge with most of Jaco Vip vacation pacages:
A JacoVIP host to meet you out at a suggested bar or restaurant on your first night.

A personal orientation meeting and

printed information package from where you will know about the area, banks, bars, restaurants, best ATMs, where you should go and where not. 

The days you will stay, you will have telephone support for information, reservations and recommendations.


There will be a JacoVIP host to greet you and assist you with check in at your Vacation House or Condo.

You will enjoy exclusive discounts on airport transfers, fishing charters, local tours and day trips.
62′ Private Party Boat:
For the private party tour you will use 62′ Private Party Boat offered by Jaco Vip. This boat is designed for entertaining up to 50 people.You can rent this private boat for a full day or half day private charter.  If you want to go for fishing with your friends or want to visit the secluded beaches or Tortuga Island or want to chill and float around the Pacific then the 62′ Private Party Boat will be perfect for you. On the boat you will find an open bar where you will have Flor De Cana Rum, Johnny Walker Red, Imperial Beers, Smirnoff Vodka,  Cuervo and Rum Punch. You will also get sodas and mixers, bottled water and ice made from purified water. With an extra set of powered speakers and a DJ to spin your favorite tunes will make the party more enjoyable. On the boat you will get almost all the things you need but you personally have to bring a camera so that you can capture the memories, dry set of clothes, flipflops or aqua shoes, a few bucks to tip the staff, swimsuit, sun block, beach towel and sunglasses. You can enjoy fishing as this boat is set up with 2 outriggers for trolling as well as 10 fishing rods. You can fish on the way to Tortuga Island. Not only fishing but also you can enjoy snorkeling an kayaking.
Time of the tour and Location:
For the private charter you will have to depart 8am, 10am or 12pm and will return around 5:30pm. The boat will depart from Herradura Bay which is 15 minutes from Jaco. You can visit private nearby beaches or can go to Tortuga Island, can cruise Jaco Beach from the ocean side. While returning you will enjoy amazing sunset view from the board.
Contact
Jaco Vip Tour
Website: www.jacovip.com
Email: info@jacovip.com
Call: 305-809-0079 ( Rings in Costa Rica)
Costa Rica Dial: 2643-6560