Posted by Imtiajul in Guanacaste
Costa Rica Surf Charters
Costa Rica Surf Charters is just 20 minutes from Liberia International Airport. It is based out of Playa Hermosa in the northern pacific region of Gunacaste. This Surf Charters also offers "dive and surf combo charters" or "liveaboard dive charters". It takes the surfers on the remote breaks of Northwest Costa Rica including the Nicoya Peninsula from Playa Grande to Mal Pais and Southern Pacific Nicaragua. Surfers can travel along the pristine coastline for a day trip of snorkeling, surfing, fishing and beach-combing or a half day tour or they can decide to go for a week trip. You will get the opportunity to spend time at the activity of your choice while the crew will prepare your meals. This trip will be a memorable trip of your life.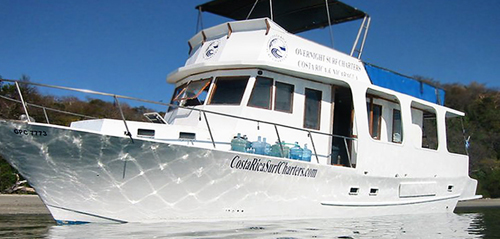 The Boat and the crews
The Aquadesiac, a beautiful replica of a classic Grand Banks Trawler, is available for the trips. This boat is equipped with upper and lower pilothouse, a full kitchen with two barbeques, salon, two bathrooms outfitted with showers, three staterooms. Its deck is fully cushioned where you can take rest. I you want to take sunbath you can chose the topside which is also decorated with cushioned bench-style seats in the shade of the upper pilothouse. If you go for a night trip, it will probably the most comfortable to spend the nights upstairs or on the front deck watching the stars and snoozing under the moon. The Aquadesiac is a 52 foot motor yacht which is powered by two 135 horsepower Cummins turbo diesel engines and these two powerful engines give the boat a cruising speed of 10 to 12 knots.This boat also has safety features including GPS, sonar, autopilot, radar and an auto-navigation plotter. The crews are really awesome. They speak English fantastically, they always keep busy to entertain the passengers and serve good food.  Brian and Jen are friendly and personable owners who take great pride in what they do. On the boat, you will meet Rafa (crew) and Cabo (the captian). Both of these guys have worked with Costa Rica Surf Charter for the past 5 to 8 years and they know the region really well.
Dive and Surf:
You can enjoy diving and surfing with your family and friends or with colleagues at Diving Safaris where we will get an entirely new open water experience in the Gulf Papagayo. We can enjoy crowd-free dive sites and surf breaks while traveling. Between Playa Grande and the Catalinas you will find some beautiful spots for diving and surfing. The Catalina island and The Bat Island are very beautiful diving sites.
Food and Drinks:
You will get wonderful meals and drinks on the boat. Vegetarians and non vegetarians both can have the foods they like but should order before. Usually eggs, fresh fruits, cereal, juice, coffee, sausage are included on breakfast menu. And during lunch you will get chicken or beef fajitas, hamburgers, chips and grilled chicken sandwich. For snacks you can chose from the fresh fruit, vegetable, chips and pico de gallo salsa, cheese and crackers and cookies. For dinner you can have grilled potatoes, rice, fresh vegetables, salad, and barbeque chicken.
Contact:
Costarica Surf Charters
Website: http://costaricasurfcharters.com
Email: info@costaricasurfcharters.com
Phone: (949) 468-0733