Posted by Imtiajul in Puntarenas, Uncategorized
Costa Rica Sailing Charters
Terry Boone is the owner of Anastasia. He has the experience in the tourist business for more than 35 years and working in many places such as Waikiki Hawaii, San Francisco, Jaco beach in Costa Rica and has also the experience of 10 years of Blue Water Sailing in the islands of Hawaii. If you go for a sailing tour with Terr, you will get a memorable experience.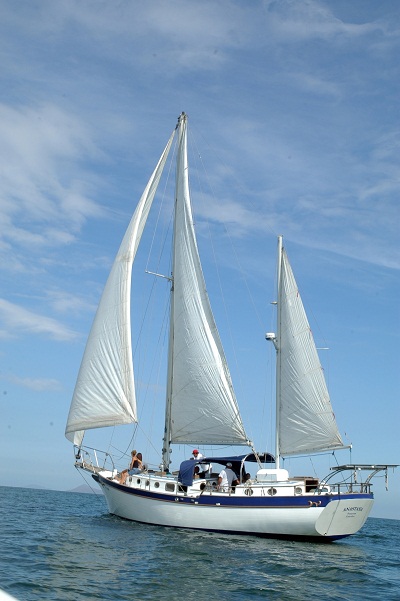 The boat Anastasia and its captain:
Anastasia is the boat which has 2 heads, 45′ Center cockpit ketch, auto pilot, two private staterooms, spacious cockpit. It visits the large port towns where you will experience the hustle and bustle of a foreign city and the culture of that city. Pedro Morerais the captain of this boat who has the experience of 25 years captaining. He has delivered yachts in many countries all around the world. The experienced captain and crews of Anastasia will make trip a memorable experience.
Sailing Destinations:
When you will go for a sailing tour with Terry Boone you will get the opportunity to visit Cano Island, Coco Island or Gulf Nicoya. All o this places are amazing.
Cano Island is on the Pacific Ocean side of Costarica. It is a small island in the Bahia de Coronado (Bay of Coronado), which has been established as a protected national park, with a permanent ranger station on the island.You will be able to see variety of fish, including dolphins, whales, sea turtles etc. You will also get the opportunity to see the great number of stone spheres of different sizes throughout the island.

Cocos Island is considered as one of the best 10 scuba diving spots in the World. If you visit this place you will see yellow fin tuna, giant mantas, sailfish and sharks, such as white-tips, hammerheads and also the whale shark which is the largest of all species of fish. You will also see other sea animals such as sea lion,olive ridley turtles, green turtles, bottle-nose dolphins etc.You will observe rain forests and their characteristic types of flora and fauna where about 90 bird species presents.

Gulf of Nicoya is famous for the Ridley and the Leatherback turtles. These turtles come to lay their eggs during specific times of the year. If you are a nature lover than you will find this place as a paradise surrounded by dry and wet tropical forest. You will find 20 different islands, many with beautiful beaches.
You can also visit Punta Coral Island (which offers private beaches),Bahía Ballena (which is the largest and most popular of the beaches in this area), Isla Tortuga (where you can enjoy swimming, water biking, snorkeling, sun bathing etc.).
Contact

Costa Rica Sailing Charters
Website: http://www.sailingcharterscostarica.com
email: terrencecboone@yahoo.com
Telephone: 011-506-8383-3170