Posted by Imtiajul in Uncategorized
Catamaran Charters Vallarta
If you want a unique and exclusive sailing vacation then you can chose Catamaran Charters from Puertp Vallarta. You will have freedom to go anywhere you want. You can chose four day sailing weekend, seven day charters or nine day charters. Whichever you chose you will have a memorable trip. The captain and the crews have proper knowledge about the great spots to sail in Banderas Bay nearby Puerto Vallarta. You can also go to the Costa Alegre to Barra de Navidad but there you have to spend few days.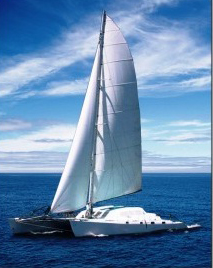 Humu Humu:
Humu Humu with 2200 square feet of deck space and overall is 68′. It has twin Honda engines which provide cruising speeds of 8-13 knots under power. It sloops rigged with speeds of 9-15 knots. You will have 4 Queen size private cabins to stay. There are 2 Full Heads and showers with pressurized hot and cold fresh water. It carries four kayaks, snorkels and fins for 15 and stairs right into the water.
For the staffs there are 2 separate crew quarters. There you will have delicious food and drinks. The whole environment is like a home and you will like to stay on the boat for a day or for more than a week.
The place you will visit:
The boat will sail out of Paradise Village Marina in Nuevo Vallarta into Banderas Bay, which is one of the largest bays in the world with an incredible marine ecology. When you will reach Banderas Bay you will get the opportunity to see humpback whales, sea lions, sea turtles, pods of dolphins, manta rays, tropical fish, coral, seahorses. There you will get the opportunity for diving, snorkeling, swimming, and many other fun activities.Not only Bandderas Bay you will also visit the Costa Alegre which is a beautiful section of coastline, dotted with little villages, small bays and coves is coastal cruising at its best.
Private Day Tours:
Private Day tours last for 6.5 hours. This tour includes sea activities such as diving, snorkeling, fishing, swimming etc. You will discover the world "under the sea", will explore the wild life of the jungle or if you wish you can just spend the day exploring the luxury, art, secluded beaches and surf of the north shore.
The stuffs will always try to make easy on the boat and will serve what you want. They will serve different kinds of foods, snacks including continental breakfast,chips, fruit, fresh guacamole & salsa made on board,Coffee,and handmade Deli sandwiches for lunch. Not only these items, you can also order for anything you want to have.
There you will get a bar fully stocked with different kinds of Pina Coladas, beer, Margaritas, sodas, juices, cocktails, and bottled water. You will have to bring hat, sunscreen, towel and cash for beach stops. Sports equipments such as modern snorkeling gear,4 kayaks life vests, and staircase into the sea.
Private Champagne Sunset Cruise:
If you go for Sunset Cruise then you will get the opportunity to watch the beautiful sunset view from the boat. Cruise usually departs from Paradise Village Marina at 5pm (vary depending on the time of year and sunset hours) and returns around 8pm. When the sun slowly sinks into the ocean and the color of the sky becomes a riot of orange, pink and indigo you will feel a peaceful feelings, calmness in your inner self. You will enjoy taking snacks and drinks on the bar. While returning you will see the city lights of Puerto Vallarta light up the shore and also see the fireworks reflecting sparkling colors off the water. You will obviously have a memorable and personal experience.
Contact
Catamaran Charters Vallarta
Mexico: (011) 52 322-221-0114
US: (760) 975-5850
Website: http://catamaranchartersvallarta.com
Email: catpv@catamaranchartersvallarta.com